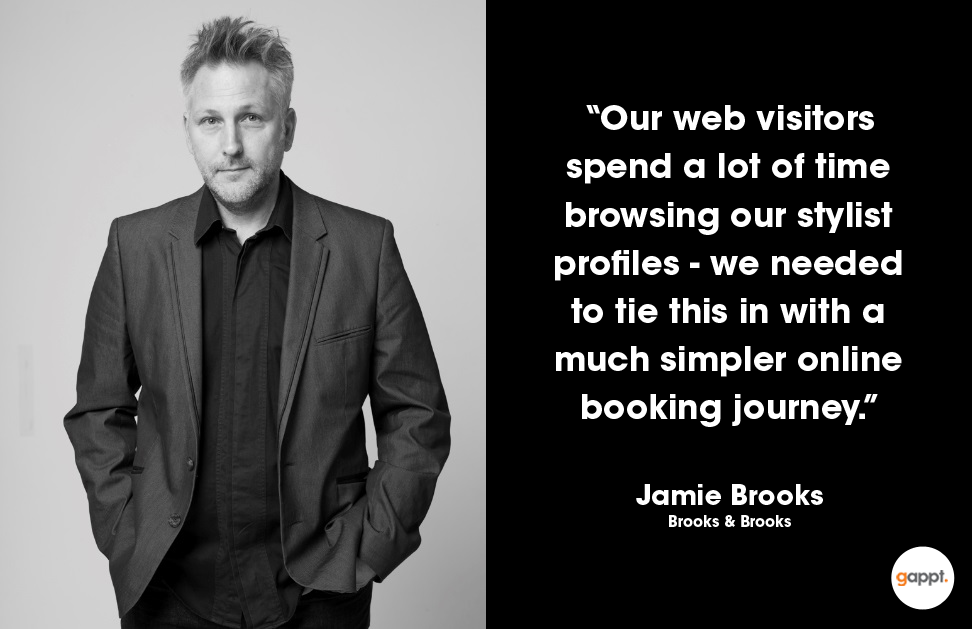 3x winner of London Hairdresser of the Year (and a host of other prestigious awards), Brooks & Brooks are all about putting clients first – not just in the salon, but also online.
"A lot of our web visitors spend quite a bit of time browsing the team profiles – they want to get a better idea of who they are as artists and as people.  So for our new website we've created some fun profiles that really let their personality shine through", says Jamie Brooks.
"But we didn't just want to have a nice picture and a catchy little blurb, we also wanted it to be dead easy for clients to book straight from those profiles", adds Sally.  "Once they've found a stylist they like, why force them to go to another page to book and ask them to select which stylist they want?  It's like you're doubling their work, and you may well lose the booking.  We wanted something much cleverer than that".
When Brooks & Brooks called us to see if we had a solution, we showed them 'Smart Stylist Booking'.  With one click, clients can check real time availability for the specific stylist they're browsing – and book.
"We just loved it – it's exactly what we wanted.  It works beautifully on our website – makes the whole online journey that much smoother", says Jamie.
"In this business, you've got to be at the forefront, not just when it comes to hair, but also technology.  gappt is helping us do that, so we can give our clients the best possible service online", says Sally.
Check out the team profiles on the Brooks & Brooks website and try it for yourself – just pick a team member, click 'Book with…' and see what happens 😉
Don't have Smart Stylist Booking yet or want to know more?  Call us now on 0207 493 0333 or email us support@gappt.com.